A court in India has acquitted former telecoms minister Andimuthu Raja of involvement in a multi-billion dollar corruption scandal.
He was accused of selling telecom licences to firms at a fraction of their real value in exchange for bribes in 2008.
Another accused in the case, Kanimozhi, who is an MP was also acquitted. Both are politicians from Tamil Nadu state.
Government auditors claimed the scandal cost the country about $40bn (£29.9bn).
Both Mr Raja and Ms Kanimozhi welcomed the verdict which they said "vindicated" them.
Mr Raja was accused of mis-selling bandwidth and charged with conspiracy, forgery and abuse of power in what came to be known as the "2G Scam".
Ms Kanimozhi is the daughter of former Tamil Nadu Chief Minister M Karunanidhi, whose DMK party was an important ally of the then Congress-led federal government,
She was accused of taking a bribe of $47.6m (£35.62m) through Kalaignar TV – a channel run by the DMK party in the southern state of Tamil Nadu.
"I have no hesitation in holding that the prosecution has miserably failed to prove the charges and all the accused are acquitted of the charges," a judge was quoted as saying by Mr Raja's lawyer on the NDTV news channel.
Fifteen other people, including bureaucrats and businessmen, and three companies were also acquitted of charges.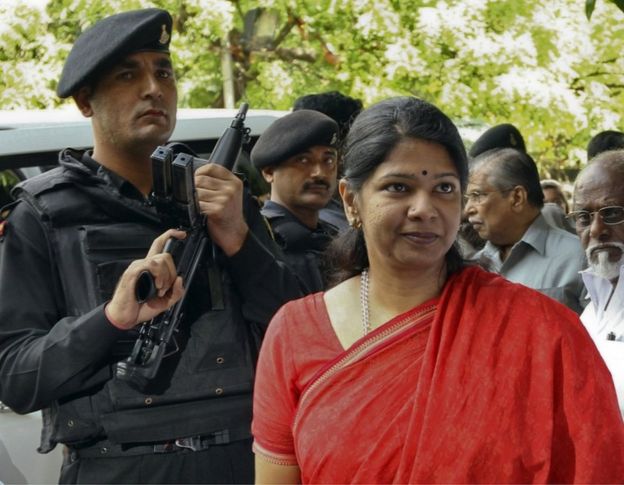 Mr Raja was forced to resign as telecommunications minister in 2010. He was arrested in February 2011 and spent 15 months in prison before he was freed in May 2012.
In 2012, India's Supreme Court cancelled 122 telecommunications licences awarded by Mr Raja to companies in 2008.
The scandal badly damaged the reputation of the Congress-led government, which was hit by a series of corruption scandals. The government lost power to Narendra Modi's BJP in 2014.
India has the world's fastest growing mobile market, with more than a billion subscribers.